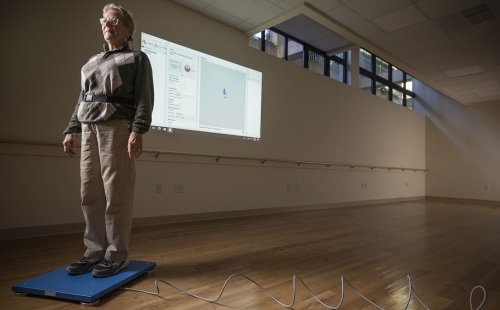 Physical Health and Function
Through the Marcus Institute's research we are learning how older adults can maintain independence and quality of life.
 
Physical Health and Function
Research About Maintaining Physical Function as We Age
Mobility is the most common disability among older Americans. More than 40 percent of older adults ages 65-79 have at least one disability in either self-care, household activity, or mobility. For those 80 years and older, this share rises to more than 70 percent. 
Moreover, 10 percent of older adults in the community and up to 50 percent in nursing homes have frailty, which is a state of increased vulnerability resulting from a decline in function across multiple systems of the body. The "oldest old" are especially at risk of developing the condition. 
Maintaining physical function as we age is key to living independently and continuing the lifestyle and activities that bring us meaning and joy. 
The Marcus Institute's research into the physical health and function of older adults focuses in six main areas: 
Mobility
Nutrition
Arthritis
Frailty
Osteoporosis
Falls
Marcus Institute Research About Maintaining Mobility and Preventing Frailty in Older Adults
The Marcus Institute's research programs are dedicated to uncovering how physical health and function of older adults impacts their quality of life, and discovering interventions to maintain physical health and function. 
Marcus Institute researchers are: 
Investigating innovative methods to measure and apply frailty in various clinical and research settings
Examining the prevalence, causes, and prevention of frailty
Studying the prevention and treatment of musculoskeletal disorders including fractures, osteoporosis, osteoarthritis, sarcopenia and hyperkyphosis
Examining the role of diet and nutrition in bone and muscle health and frailty
Conducting ground-breaking research in the use of non-invasive brain stimulation to improve mobility and balance and reduce falls among older adults
Explore this section to learn more about current research projects underway to study and improve physical health and function in older adults. 
Find current research projects
Predicting and Identifying Risk Factors for Short Time at Home in Older Adults after Hospitalization
This research aims to determine predictors of short time at home after SNF discharge among well-established frailty measures and modifiable risk factors. 
Principal Investigator
Prospective Monitoring of Newly Approved Cardiovascular Drugs in Older Adults with Frailty
This research aims to establish a prospective monitoring program in routine healthcare databases for older adults with frailty and identify predictors of benefit from newly marketed drugs for cardiovascular disease.
Principal Investigator
Risk-Guided Atrial Fibrillation Surveillance in Ischemic Stroke
This research aims to evaluate contemporary practices related to the use of an Implantable Loop Recorder (ILS) following ischemic stroke. Our goal is to develop a post-stroke atrial fibrillation (AF) risk prediction model using the national Veterans Health Administration electronic health records (EHR) and externally validate the model in the Boston Medical Center Stroke Database and develop an EHR-based post-stroke AF risk estimation tool and conduct a single-arm pilot test of the EHR tool to evaluate acceptability, adoption, and validity prior to RCT testing. 
K23HL151903-01A1 
Principal Investigator
Safe Cardiometabolic Drug Prescribing to Prevent Injury in Nursing Home Residents
This research aims to determine the net clinical benefit of cardiometabolic drugs in ADRD and other nursing home residents. Our findings will inform clinical treatment of cardiometabolic disease, prevent injurious falls, and save costs in the nursing home.
NIH R01AG061221
Principal Investigator
Senolytics and Depressive Symptoms in Older Adults at Risk of Alzheimer's Disease (STAMINA)
This research aims to prevent common age-related impairments in cognition and mobility that lead to the development of Alzheimer's disease by interrupting one of the fundamental mechanisms of aging, namely the accumulation of senescent cells and their damaging products. We will determine the feasibility of administering Quercetin and Dasatinib to eliminate these cells from the body, and test whether their elimination can improve brain blood flow, cognition, and mobility in older adults at risk of developing Alzheimer's disease.
Principal Investigators
Successful Aging After Elective Surgery (SAGES)
This research aims to examine the risk factors, causes, and duration of changes in thinking, functioning, and memory after surgery and hospitalization, and in some cases, delirium in older adults. Explore the role of inflammation, Alzheimer's disease biomarkers, brain plasticity, and complicated delirium.
Principal Investigator
Systemic Contribution of Age-Associated Epigenetic Mechanisms to Osteoarthritis
This research aims to identify potential new targets for Osteoarthritis therapy by identifying key age-associated biological mechanisms underlying Osteoarthritis pathogenesis. The objective of this project is to determine the role of epigenetic changes to genes in key aging pathways on Osteoarthritis.
Principal Investigator
The Gut Microbiome and Bone Microarchitecture
This research aims to test the central hypothesis that the gut microbiome is associated with BMD, microarchitecture, and strength.
Principal Investigator
Understanding and Modulating Cortical Dynamics of Dual-task Standing in Older Adults with Mild Cognitive Impairment
This research aims to determine whether non-invasive brain stimulation improves balance and walking. Biological aging and cognitive decline interact to disrupt the complex control of balance and mobility. Mild Cognitive Impairment (MCI) represents a common prodromal phase of dementia. As compared to older adults who are cognitively-intact, those with MCI tend to exhibit poor "dual-task" standing balance performance; that is, the ability to maintain balance when standing and simultaneously performing an unrelated cognitive task. Moreover, those older adults who have worse dual-task standing balance are more likely to suffer falls and develop dementia. By studying the cortical control of balance in older adults with and without MCI the goal is to translate our discoveries into novel interventions designed to help all older adults preserve their cognitive-motor function into senescence.
Principal Investigator