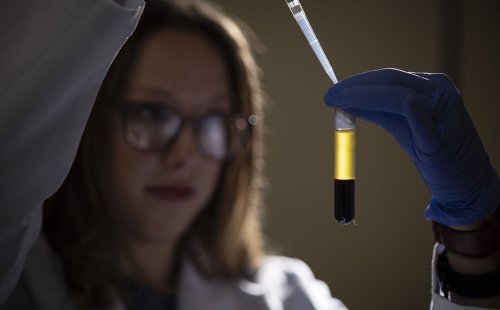 Biomarkers and Genetics
Marcus Institute research is uncovering the science that will shape the future of precision medicine in aging.
Identifying Individuals Most at Risk for Debilitating Age-related Conditions
Precision medicine - care tailored to an individual's health status and genetic makeup - is likely to shape how health care treatments will be prescribed in the future.
However, to make this kind of personalized care a mainstream reality, researchers must advance the understanding of the biomarkers and genetics of different diseases. That's where Marcus Institute researchers are having an impact.
At the Marcus Institute, we are studying the human genetics of musculoskeletal phenotypes of aging, such as osteoporosis, osteoarthritis, bone microarchitecture, muscle mass and strength, and frailty.
We're also working to understand the role Alzheimer's disease biomarkers play in causing delirium in older adults after a surgery or hospitalization. 
The Marcus Institute's Impact on Biomarkers and Genetics Research
Our researchers have pioneered work that leverages advancements in the field of human genetics to help identify risk factors for age-related conditions and to develop innovative interventions.
For example:
Our researchers determined that genetic pre-screening of fracture risk could reduce the proportion of people who require bone mineral density screening by 41 percent, while maintaining a high ability to correctly determine appropriate treatment for those at risk. Understanding with more accuracy who is at most risk of fracture could reduce unnecessary testing and lower health care expenditures.
We are using microbiome analysis to identify microbial biomarkers of Alzheimer's disease, chronic gastritis, and gastric cancer.
The exploration of biomarkers and genetics has never been more important to improving quality of care for adults as they age. Keep reading to learn about projects that are currently underway.   
Find current research projects