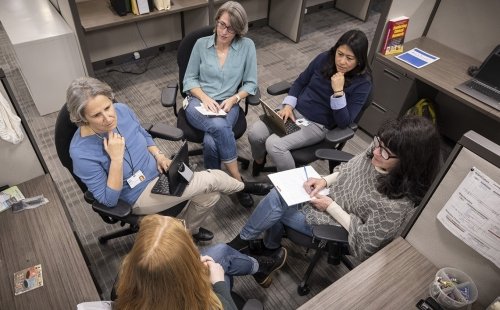 Training Opportunities
Gain hands-on experience in aging research at a Harvard Medical School affiliate.
The Hinda and Arthur Marcus Institute for Aging Research has a long history of training talented new investigators in the field of aging. Our trainees have gone on to conduct their own cutting-edge research within the Marcus Institute and beyond. To this day, we continue to cultivate a pipeline of forward-thinking researchers in the field of aging who will continue to transform health and aging worldwide.
As one of the largest gerontological research facilities in the U.S., and an affiliate of Harvard Medical School, you'll have access to the resources you need to succeed while at the Marcus Institute. You will learn from and work alongside Harvard Medical School-appointed faculty who are experts in geriatrics, gerontology, epidemiology, biostatistics, and social and clinical research.
Our faculty is deeply committed to mentoring young researchers. They encourage innovative pilot work and enhance methodologic expertise to facilitate cutting-edge research throughout the Institute. While here, you'll gain hands-on experience, learn how to design a study, successfully seek grant funding, write grant proposals, and much more.
Post-Doctoral Training
The Marcus Institute offers young scientists unparalleled mentorship and research opportunities in gerontological research. Post-doctoral fellows benefit from our strong partnerships with many of the Boston area's leading academic institutions, including Harvard Medical School and Beth Israel Deaconess Medical Center.
We are home to the Harvard Translational Research in Aging Training Program, a two-year T32 training program sponsored by the National Institute on Aging.
For information on other postdoctoral fellowship and career opportunities, please view our current job postings.
Contact us for more general information about training opportunities.
Training Opportunities at the Marcus Institute
Equal Opportunity Employer
We are an equal opportunity employer and all qualified applicants will receive consideration for employment without regard to race, color, religion, sex, national origin, disability status, protected veteran status, gender identity, sexual orientation, pregnancy and pregnancy-related conditions or any other characteristic protected by law.