Give to Aging Research at the Marcus Institute
Donors provide critical support to fund research into Alzheimer's, dementia, frailty, and more conditions of aging.
Give to Aging Research at the Marcus Institute
The Critical Role of Philanthropy in Aging Research
Despite the fact that the number of seniors in the U.S. is growing rapidly, geriatric research is chronically underfunded. If we are to give every senior the care they need and deserve, we must find answers to improve the experience of aging, and prevent common conditions that impact quality of life in our later years.
Federal grants are absolutely critical for early-career investigators. However, the age at which a researcher receives their first major NIH grant rose from the mid-30s in 1980 to mid-40s in 2020. This makes philanthropy crucial in helping young investigators - tomorrow's leaders - prove hypotheses and gather the data required to seek federal funding.
Donor funding provides seed money for tomorrow's biggest discoveries. Your investment will help to ensure future generations of seniors live longer, healthier lives.
Why Donate to the Marcus Institute?
The Hinda and Arthur Marcus Institute for Aging Research has emerged as a leading nonprofit center of aging research and a prolific trainer of future research and clinical talent.
We were one of the first clinical research institutes in the country focused solely on geriatrics, and we remain the only one affiliated with Harvard Medical School. We are home to the best and brightest minds in geriatric research, with pioneers in fields including Alzheimer's disease, non-invasive brain stimulation, frailty, delirium, falls, health care services, and more.
Because the Marcus Institute operates within the Hebrew SeniorLife system, our researchers work in close proximity to more than 3,000 seniors each day. Their needs, struggles, and challenges drive our work. Our results are used to develop services, programs, and best practices in the treatment of common conditions associated with aging.
Your Gifts Fund Innovative Treatments and Discoveries
Donor funding allows the Marcus Institute to grow our capacity to conduct research that is addressing the most pressing needs of older adults in the 21st century. This includes programs like:
Funding for pilot and exploratory grants within the Marcus Institute, to help researchers acquire the preliminary data that are necessary to win future NIH awards.
Training opportunities for postdoctoral researchers and junior faculty, including efforts to recruit, train, and retain diverse scientists.
New treatments for conditions like cognitive decline, Alzheimer's disease, and Parkinson's disease, including the use of non-invasive brain stimulation to improve function and lessen the burden of symptoms.
The collection, storage, and analysis of longitudinal research about how we age. This will provide a deeper understanding of which factors predict good health and which suggest poor outcomes, allowing for early intervention to sustain health, prevent functional decline and disability, and improve quality of life.
Aging is inevitable. That's why aging research is essential - and why we need your partnership to improve the health and well-being of all people as they age.
Ways to Give to the Marcus Institute
Whether it's an annual or monthly donation, gift from your estate, or leadership gift, your generosity matters.
Unrestricted donations of any amount give the Marcus Institute the flexibility to use funds where the need is greatest. Recurring monthly donations are especially important in providing a consistent source of funding we can rely on for growth and innovation.
Donate online or send your gift to:
Hebrew SeniorLife Development Office
1200 Centre Street
Boston, MA 02131
Making a gift through your estate, a charitable gift annuity, or an IRA can have huge benefits for you and for the Marcus Institute at the same time.
Bequests and life income gifts help you plan for the future, increase your income, and give to others in a meaningful way. The options can be tailored to your age, assets, and philanthropy goals.
By planning your estate and legacy, you can:
Give a personally significant gift to the Marcus Institute
Save on gift and estate taxes
Reduce or avoid capital gains taxes
Pass assets on to family members at reduced tax costs
Receive income for life
There are a number of options for planned giving. Not sure which is right for you? We're happy to have a conversation. Call us at 617-971-5791 or send us a message online.
With a leadership gift of $25,000 or more, you can have a significant impact on the Marcus Institute's ability to change the standard of care for seniors.
Whether you give an unrestricted gift that will be put to use where we need it most or a restricted gift to the initiative of your choosing, your impact on aging will reach far and wide. Naming opportunities are available, including programs, endowed positions, and physical spaces within the Marcus Institute.
We'd love to talk about your philanthropic goals and how a leadership gift to the Marcus Institute can align with your values. Contact Teresa V. Lisek, Director of Development, or call 617-971-5788.
Does your employer match your gift? Many do, even gifts made by retired employees. This can double your impact! Contact your Human Resources department to learn your company's policy. 
"Our hope is that the gift will enable the Marcus Institute to translate research to public policy. What we learn should be disseminated beyond our walls to our patients and residents and globally to create a better quality of life for all seniors, now and in the future."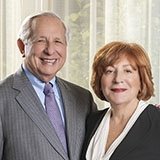 Hinda Marcus
Donor
"My family has been deeply affected by Parkinson's disease, so Dr. Brad Manor's research on noninvasive brain stimulation to help improve balance and cognition for individuals with Parkinson's disease really struck a chord with me."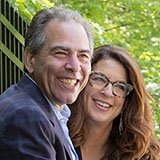 Rick Henken
Donor
"What we're interested in is longevity - attracting young people to the Marcus Institute and ensuring that they have the resources and opportunities that motivate them to stay."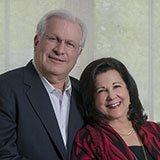 Rick and Beth Marcus
Donors