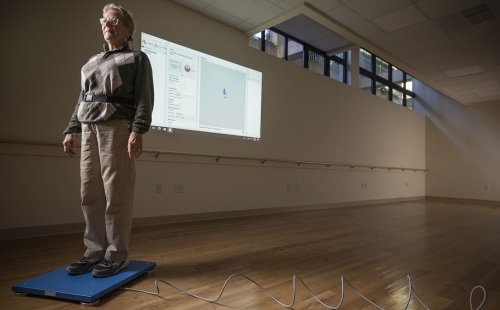 Physical Health and Function
Through the Marcus Institute's research we are learning how older adults can maintain independence and quality of life.
 
Physical Health and Function
Research About Maintaining Physical Function as We Age
Mobility is the most common disability among older Americans. More than 40 percent of older adults ages 65-79 have at least one disability in either self-care, household activity, or mobility. For those 80 years and older, this share rises to more than 70 percent. 
Moreover, 10 percent of older adults in the community and up to 50 percent in nursing homes have frailty, which is a state of increased vulnerability resulting from a decline in function across multiple systems of the body. The "oldest old" are especially at risk of developing the condition. 
Maintaining physical function as we age is key to living independently and continuing the lifestyle and activities that bring us meaning and joy. 
The Marcus Institute's research into the physical health and function of older adults focuses in six main areas: 
Mobility
Nutrition
Arthritis
Frailty
Osteoporosis
Falls
Marcus Institute Research About Maintaining Mobility and Preventing Frailty in Older Adults
The Marcus Institute's research programs are dedicated to uncovering how physical health and function of older adults impacts their quality of life, and discovering interventions to maintain physical health and function. 
Marcus Institute researchers are: 
Investigating innovative methods to measure and apply frailty in various clinical and research settings
Examining the prevalence, causes, and prevention of frailty
Studying the prevention and treatment of musculoskeletal disorders including fractures, osteoporosis, osteoarthritis, sarcopenia and hyperkyphosis
Examining the role of diet and nutrition in bone and muscle health and frailty
Conducting ground-breaking research in the use of non-invasive brain stimulation to improve mobility and balance and reduce falls among older adults
Explore this section to learn more about current research projects underway to study and improve physical health and function in older adults. 
Find current research projects