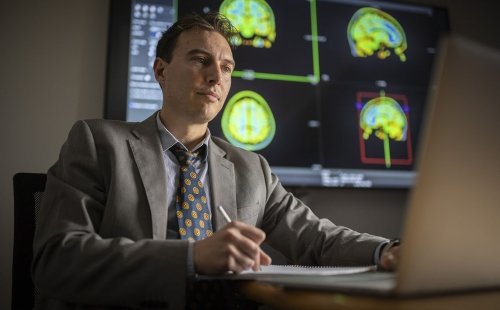 Brain Health
Through pioneering multidisciplinary research, the Marcus Institute is uncovering new answers to the challenges of Alzheimer's disease, dementia, delirium, and other changes to the brain.
 
Researching the Impact of Age-related Brain Changes
Our brain is responsible for much more than thinking and cognition. In fact, it controls all aspects of the way our body functions. Changes that happen in the brain as we get older affect areas of health such as gait, mobility, and falls; and increase our risk of experiencing dementia and delirium.
According to recent research, one in ten adults older than 65 experiences cognitive decline. This sobering statistic dramatically demonstrates the need to understand the connection between the brain and common age-related conditions, and to find ways to maintain brain health as we age.
Seeking Ways to Improve Brain Function in Older Adults
At the Marcus Institute, we're seeking ways to prevent, reverse, treat, and manage brain-related changes in the functioning of older adults.
Because the brain is a complex organ that regulates all processes in our bodies, our research takes a multidisciplinary approach to understanding its role in maintaining overall health. The Marcus Institute is:
Investigating the novel use of non-invasive brain stimulation to improve depression, executive cognitive function, mobility, falls, and balance.
Finding ways to enhance brain function to reduce the burden of cognitive decline, delirium, and dementia. 
Improving the care of people affected by Alzheimer's disease, dementia, and other related conditions, and reducing the burden on their caregivers.
Leading Researchers in Alzheimer's, Delirium, and Non-Invasive Brain Stimulation
The Marcus Institute is home to top researchers in Alzheimer's disease, dementia, neurology, and delirium. To name just a few:
Dr. Sharon Inouye has been awarded many of the highest accolades in her field due to her pioneering investigation of delirium. 
Dr. Susan Mitchell is a principal investigator on a massive collaborative research incubator developing trials aimed at evaluating interventions for Alzheimer's and dementia, funded through a $53.4 million National Institute on Aging grant.  
Dr. Alvaro Pascual-Leone has been recognized as one of the world's top 15 neuroscientists due to his innovative research into the use of non-invasive brain stimulation. 
Explore this section to learn more about the Marcus Institute's current research projects relating to cognition, Alzheimer's disease, delirium, dementia, and depression. 
Find current research projects
Risk-Guided Atrial Fibrillation Surveillance in Ischemic Stroke
This research aims to evaluate contemporary practices related to the use of an Implantable Loop Recorder (ILS) following ischemic stroke. Our goal is to develop a post-stroke atrial fibrillation (AF) risk prediction model using the national Veterans Health Administration electronic health records (EHR) and externally validate the model in the Boston Medical Center Stroke Database and develop an EHR-based post-stroke AF risk estimation tool and conduct a single-arm pilot test of the EHR tool to evaluate acceptability, adoption, and validity prior to RCT testing. 
K23HL151903-01A1 
Principal Investigator
Role of Inflammation after Surgery in Elders (RISE)
This research aims to understand the role of inflammation in delirium and long-term cognitive decline. RISE has identified important risk markers for delirium and cognitive decline as well as biomarkers of inflammation.  
Principal Investigator
Safe Cardiometabolic Drug Prescribing to Prevent Injury in Nursing Home Residents
This research aims to determine the net clinical benefit of cardiometabolic drugs in ADRD and other nursing home residents. Our findings will inform clinical treatment of cardiometabolic disease, prevent injurious falls, and save costs in the nursing home.
NIH R01AG061221
Principal Investigator
Senolytics and Depressive Symptoms in Older Adults at Risk of Alzheimer's Disease (STAMINA)
This research aims to prevent common age-related impairments in cognition and mobility that lead to the development of Alzheimer's disease by interrupting one of the fundamental mechanisms of aging, namely the accumulation of senescent cells and their damaging products. We will determine the feasibility of administering Quercetin and Dasatinib to eliminate these cells from the body, and test whether their elimination can improve brain blood flow, cognition, and mobility in older adults at risk of developing Alzheimer's disease.
Principal Investigators
Successful Aging After Elective Surgery (SAGES)
This research aims to examine the risk factors, causes, and duration of changes in thinking, functioning, and memory after surgery and hospitalization, and in some cases, delirium in older adults. Explore the role of inflammation, Alzheimer's disease biomarkers, brain plasticity, and complicated delirium.
Principal Investigator
System Biology Approach to Decode Molecular Mechanism of Glucose Metabolism in Alzheimer's Disease and Dementia
This research aims to elucidate novel molecular biomarkers associated with glucose metabolism that might serve to define high-risk individuals and to identify novel potential drug targets for AD/dementia.
Principal Investigator
Targeting Depression and Memory Symptoms with Multi-focal Circuit-based Neuromodulation
This pilot study aims to explore the feasibility and effects of a symptom-specific, brain-circuit-based, home-based neuromodulation therapy for addressing mood and memory symptoms in older adults with major depressive disorder (MDD) in the context of dementia. 
Principal Investigator
Trial to Reduce Antimicrobial Use in Nursing Home Residents with Alzheimer's Disease and Other Dementias (TRAIN-AD2)
The research aims to develop and implement a pragmatic trial of a practice-level intervention to reduce antimicrobial use in nursing home residents who are exhibiting AD or related dementias. 
Principal Investigator
Understanding and Modulating Cortical Dynamics of Dual-task Standing in Older Adults with Mild Cognitive Impairment
This research aims to determine whether non-invasive brain stimulation improves balance and walking. Biological aging and cognitive decline interact to disrupt the complex control of balance and mobility. Mild Cognitive Impairment (MCI) represents a common prodromal phase of dementia. As compared to older adults who are cognitively-intact, those with MCI tend to exhibit poor "dual-task" standing balance performance; that is, the ability to maintain balance when standing and simultaneously performing an unrelated cognitive task. Moreover, those older adults who have worse dual-task standing balance are more likely to suffer falls and develop dementia. By studying the cortical control of balance in older adults with and without MCI the goal is to translate our discoveries into novel interventions designed to help all older adults preserve their cognitive-motor function into senescence.
Principal Investigator